Mobile Devices Settings
To access email, calendar, contacts and task data on your mobile device, your device must be configured to the correct settings.
This reference guide outlines the process for changing mail settings on iPhones and iPads, other mobile devices would have a similar process.
NOTE: These screen shots are iPhone 6, other models may have similar screens.
Configure which items to synchronise
Select 'Settings > Mail, Contacts, Calendars'
Select 'Exchange (unless you named it differently during setup)
Enable/Disable options by turning on/off the radio buttons for 'Mail, Contacts, Calendars, Reminders and Notes'
Select an appropriate amount of time to synchronise
Configure method of synchronising data
Select 'Settings > Mail, Contacts, Calendars'
Under your accounts listed, select 'Fetch New Data'
Make sure 'Push' is enabled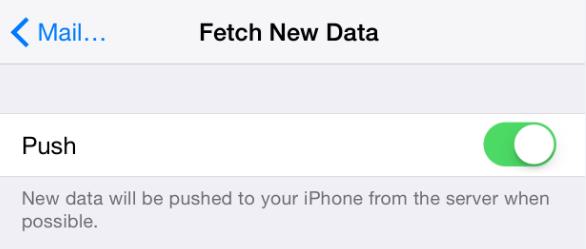 Select 'Exchange' (unless you named it differently during setup)
Select 'Push' to receive real time data delivery
Select 'Fetch' to conserve battery life and choose an appropriate update interval
Select 'Manual' to only check for new items/changes when you open the relevant application