Technology for learning leader in robotics
Jennifer Riley, Relieving Principal of Melrose Park Public School, explores how robotics can help support student engagement, learning and skills development.
Melrose Park Public School is a small school of 212 students situated in the area of West Ryde. The school endeavours to empower all students to be successful, engaged learners who employ critical and creative thinking skills to persevere in learning. Robotics is one such way that students build their confidence, teamwork and problem solving skills.
To prepare students to be critical and creative thinkers, Melrose Park Public School implements a range of innovative and future focused practices designed to ensure their students are equipped with problem solving capabilities and strong collaborative skills.
Contributing to this focus, the school's Innovation and Engagement Team, under the leadership of Mrs Pam Grover, builds the capacity of classroom teachers to integrate information and communication technology (ICT), including robotics, into their teaching and learning activities.
Kindy kids learning coding
Extra-curricular programs in robotics
The robotics programs began in 2012 as an extra-curricular activity where students were invited to attend lunch time sessions. Despite having only a small number of Lego RCX robots, participation and interest in the robotics program was high. Over time, a formal Robotics Club was developed and some Lego EV3 robots purchased. The club enabled students to develop their programming, building and coding skills. The school established its own robotics competitions where students showcased their learning to peers and the wider community.
As student confidence and skills developed, the school entered teams in RoboCup Junior, an educational competition for students in Years 3 to 12. This competition is a project-oriented educational initiative that addresses social development by encouraging sportsmanship, sharing, teamwork, cooperation, organisational skills and understanding of differences between individuals. In 2016, a Year 6 robotics dance team achieved the amazing feat of coming 2nd in both regional and state competitions and 5th in the national competition.
Over time, classroom teacher interest in robotics peaked as teachers witnessed high levels of student engagement in the Robotics Club and in the competitions. A genuine desire began to develop among staff to participate in professional learning in robotics.
Integration of robotics across the curriculum
As part of school planning over the last two years, robotics has been identified as an area for integration across the curriculum. Pam Grover collaborated with classroom teachers to integrate robotics effectively in the classroom and led whole school professional learning sessions to build these teacher capabilities.
Alongside a growing teacher skill set and confidence, robotics began to find its way into classrooms. In Kindergarten, Year 1 and Year 2, BeeBots were being used to explore the concept of 'position' including navigating to locations on local and world maps.
BeeBot map
Year 2 students enjoyed a STEM unit where they coded a dance sequence in Scratch Junior then programmed dances for Dash robots and Ozobots. Year 3 students enjoyed experimenting with programming the Dash and Dot robots, Ozobots and a drone robot.
Dash with Year 4
Year 4 were introduced to programming Lego EV3 robots. In Years 5 and 6, EV3 robots were integrated into science lessons on light. Teachers were inspired to utilise the tool in their lessons resulting in more motivated students who actively participated, finding these learning tasks engaging and innovative.
Robotics in the classroom
In 2018, the focus on innovation and embedding robotics into the curriculum has continued and while Pam Grover is heavily involved in leading robotics initiatives, other teachers across the school are supporting their colleagues in the integration of robots into teaching and learning activities. Robotics has become culturally engrained and student interest continues to grow. Melrose Park Public School recently had the opportunity to share its robotics journey through the NSW Department of Education Technology for Learning (T4L) competition. The video submission, MPPS robotics program by Pamela Grover (3 min: 1 sec), demonstrates aspects of the school's robotics journey.
The school community was delighted to be announced ET4L Award Winner Leader in Robotics and to be able to showcase its robotics programs to NSW public schools.
Robocup 2018
The use of robotics in building effective learners
Not only have robotics programs contributed to engaging our students, the programs have also enabled them to develop effective learner dispositions. Through robotics, students are required to think critically, problem solve and collaborate.
Robotics has encouraged students' design thinking skills and sharpened their computational thinking. They have learned to reflect on their design and programming processes and continually evaluate steps and methods to make improvements.
The school believes wholeheartedly in developing capable, global citizens. Robotics has contributed to this by making a positive impact across the school with staff seeing high levels of student engagement and the creation of more resilient learners.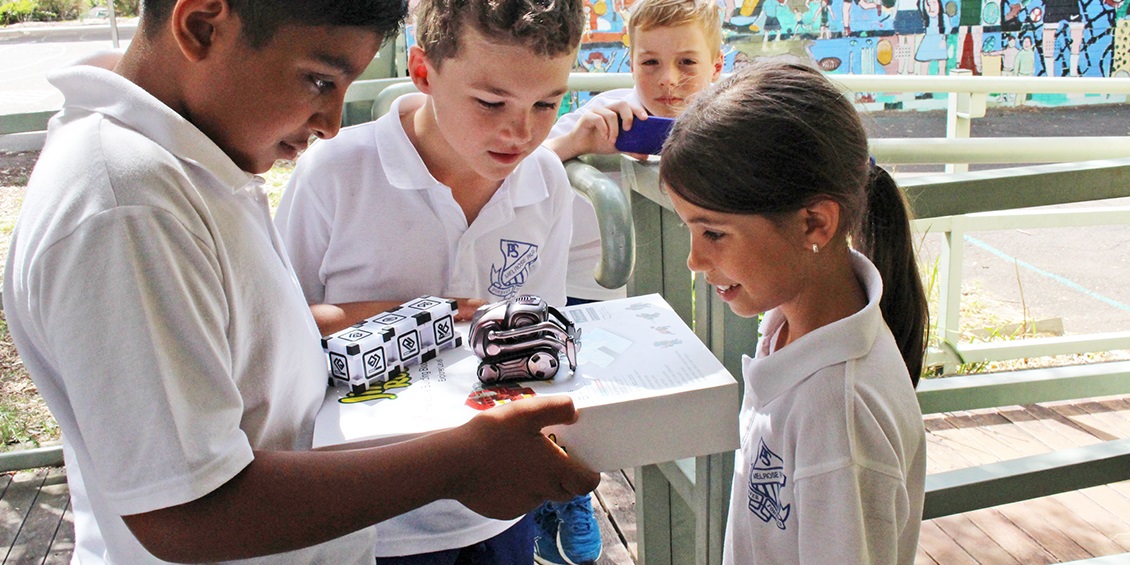 Cosmo
How to cite this article - Riley, J. (2018). Technology for learning leader in robotics. Scan, 37(8).