Resource overview
A Shared Practice and Resource Kit (SPaRK) for geography Stage 3 and science and technology Stage 3, Years 5-6.
'Around the World in 80 Puzzles' by Aleksandra Artymowska, Big Picture Press, London, 2017.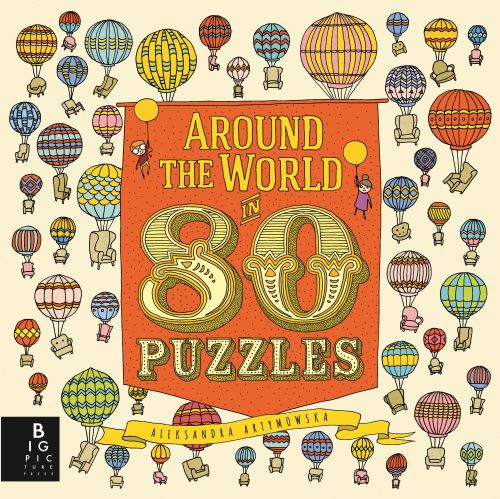 Puzzle books are always of interest to children and this one uses the storyline of a famous novel by Jules Verne as a background to the puzzles. Journeying around the world in a range of vehicles, with questions posed for the reader, provides an interactive and fun way to solve the puzzles. By re-reading the book, children can challenge themselves and find out more.
Educational significance
Students learn through inquiry and curiosity. This book allows students to follow inquiry lines and curiosity through the travels of a small boy who starts his journey with a balloon.
Suggestions for using this text
There are many ideas in this book, such as journeying to another country and the building materials and engineering associated with travelling from one place to the next. The book could be used as a catalyst for an inquiry unit in either geography or science and technology. It could also be used to stimulate curiosity and inquiry for an independent research project using the inquiry process.
While this SPaRK does not outline visual literacy ideas, the book could also be used with younger students for pattern recognition. Additionally, it could provide inspiration for older students creating their own journey using images and clues.
Initially, share the book with the class to stimulate curiosity. Ask questions such as:
What strategy could you use to find the end of the path on this page?
How else could the little boy travel to this country?
What do you know about this form of transport?
What do you know about this region or country?
If you don't know something, how do you find out?
Teaching activities
For the purpose of this SPaRK, The Murdoch inquiry process has been used and matched to the NSW Department of Education information process. You may select one of the following topics and related syllabus outcome or you may divide the class into 4 groups (self-selected) for each group to work on one topic. An inquiry model of learning aligns with the geographical skills of:
observing, questioning and planning
collecting, recording, evaluating and representing
interpreting, analysing and concluding
communicating
reflecting and responding.
In science and technology, Stage 3 students investigate by posing questions, including testable questions, making predictions, and gathering data to draw evidence-based conclusions and develop explanations. The following inquiry process allows both geography skills and science and technology skills to be integrated within a framework of curiosity.
Tuning into students' thinking or the Define stage
Using an inquiry model of learning, brainstorm questions from the book about:
other countries and cultures
transport methods – best ones to use
types of materials used in getting from one place to another
problem solving – how are the puzzles solved?
Finding out or Locate stage
Students explore the selected topic to discover their burning questions – for all in the group to answer. They will need access to the school library and online resources, as well as any local expertise within the community.
Sorting out or the Select and Organise stages
Locate and record information based on questions developed. Download a sample notetaking template [13 KB] for students to record information as a group.
Going further
Re-visit found information. Each student develops a burning question that he/she is interested in and can research further. Each student needs to check in with the teacher to justify their question for further research.
Synthesising and reflecting
As a group, share information or data and develop conclusions or ideas to move forward. Use a collaborative tool such as Google docs or a wiki to capture whole group and individual information.
Acting and applying or the Present stage
Present information as a group. This may involve, for example, developing a prototype of a transport form, creating an experiment in materials or an algorithm for solving puzzles, or digitally presenting a country's geographical perspective.
Assess stage
Students complete a journal entry about what they learnt, liked and could investigate further.
Syllabus links
Geography K-6
GE3.1: A student describes the diverse features and characteristics of places and environments.
GE3.2: A student explains interactions and connections between people, places and environments.
A diverse and connected world. Connections shape perceptions:
Students investigate how connections influence people's perception and understanding of places, for example (ACHGK036) identification of factors that influence people's perceptions of places eg media, culture, education, travel.
Science and Technology K-6
ST3-14BE: A student describes systems in built environments and how social and environmental factors influence their design.
Social and environmental factors influence the design of built environments.

Students develop designs and solutions to meet specific social or environmental needs of users, eg an energy-efficient building or high-traffic airport terminal/train station.

ST3-2DP-T: A student plans and uses materials, tools and equipment to develop solutions for a need or opportunity.
ST3-3DP-T: A student defines problems, and designs, modifies and follows algorithms to develop solutions.
Experimenting
Inspired by the puzzles from the book and BrainBashers, students could work in pairs to develop a simple game on Kahoot. All student puzzles could then be collected as one Kahoot activity.
A geography focus for this task could involve using the puzzles that show regions or countries as the catalyst. Then ask students to create a game, giving them some questions to answer:
How is this region represented in the media?
What are 3 main points of culture for this region?
How would you plan a trip to this region?
A science and technology focus could involve students designing a flowchart of one puzzle, showing the problem and a solution. Ask students to represent this graphically.
How to cite this article - Wall, J. 2018, 'SPaRK – Around the World in 80 Puzzles by Aleksandra Artymowska', Scan 37(2).