Kristy Hawkins is a classroom teacher at Harrington Park Public School. She is a facilitator of Self-Organised Learning Environments (SOLE).
Introduction
If we look at the present and cast our gaze into the future, the five‐year‐olds who started Kindergarten this year will be at university in 2030 and will spend most of their working lives in the second half of the 21st century. While it has always been the case that our schools hold the future within their classrooms, today's education system needs to set the foundations for these young children to thrive in life and work well into the years beyond 2050. Hence the reason for Harrington Park Public School's collective vision to ensure that students are engaged in meaningful and future focused learning. Our staff is driven to provide an expert teacher for every child, who delivers challenging learning opportunities that utilise technology in redefined learning spaces. Buzzwords such as 'flexible classrooms', 'future focused' and 'student directed learning' fuelled our discussions in an attempt to change our traditional methods of teaching, to best support students now and into the future.
In order for our students to be collaborative and creative thinkers our journey commenced with a small team of teachers participating in the Self-Organised Learning Environments (SOLE) training course, designed to better understand the purpose and structure of this pedagogy. Upon completing the training program our team felt inspired and immediately launched into the innovative teaching approach of SOLE in a bid to create a 'why not?' learning culture for students and teachers. By capitalising on the two abundant commodities of curiosity and internet browsing, student's level of engagement and passion for learning quickly escalated.
A school in the cloud
A SOLE is designed to support learners as they tap into their instinctive sense of wonder. Sugata Mitra and his colleagues have carried out research for over 13 years on the nature of self-organised learning. At the 2013 TED conference, Sugata invited communities of educators and worldwide leaders to create their own self-organised learning and share their discoveries.
'My wish is to help design the future of learning by supporting children all over the world to tap into their innate sense of wonder and work together.' (Mitra, 2013)
Learning as a dynamic team
SOLEs are created when educators encourage students to work as a community to answer inquiry questions by combining the activities of web browsing, discussion and exercising previously acquired knowledge. The purpose of SOLE is to integrate technology with student directed opportunities. The pedagogy supports learning in all domains of the curriculum. SOLE is primarily a Years 3–12 program, with the opportunity to modify the protocols and structures for K–2 students. The principles of SOLE embrace the practices of:
collaboration
communication
critical thinking
creativity.
The bones of a SOLE session
How is SOLE implemented into a classroom?
Students are presented with an opened ended inquiry question and then engage with a supporting, focus stimulus (for example, short film, images, poem or a quote). This dynamic combination promotes curiosity and thought patterns in student's independent brainstorming.

For example:
Inquiry question: What would happen if all of the coral went on strike?
Stimulus: National Geographic short film on coral bleaching in The Great Barrier Reef.
(Extracted from a Stage 3, Science and Technology Unit – Living World)

Afterwards, students self–organise into small groups of 3-5 with access to one electronic device which supports internet browsing.

Collaboratively engage in the 'Inquiry SOLE session' for approximately 40 minutes.
As a class, present findings and deliver constructive feedback.
Learners engage in the follow up activity, as SOLE is not a standalone lesson. Students are given the opportunity to apply their knowledge from the inquiry session in an engaging, purposeful task.
Students generate further inquiry questions to guide the unit of work and future research lessons.
Self-organised group work

What makes a thought provoking 'Big Question'?
Big Questions are the questions that do not entail an easy answer; they promote investigation and fluid discussions. The aim of each inquiry question is to encourage deep and long conversations, rather than finding a short and direct response that students now describe as 'easy' answers. In my experience, some sessions can run for more than one designated time slot, depending on the appropriateness of the question, student's interests and levels of engagement. When planning Big Questions the essential aim is to create questions that support learning content from nominated syllabus outcomes. This replaces the traditional approach of planning purely teacher directed lessons for a unit of work. A unit of work will have a combination of one 'umbrella question' that should drive summative and formative assessment, a selection of teacher created questions as well as student generated questions that are developed during inquiry sessions.
SOLE question planner, Stage 3 Science and Technology – Change Detectives
My previous Year 4 class was so enthralled with the question 'Who is really the king of the jungle?' (Extracted from a Stage Two Science Unit – Living World), it led to the inquiry session running over three different hourly time slots. Subsequently, this cohort insisted on revisiting the exact question some 2 years later in Year 6. For me that is the essence of learning; it is simply education that is driven by the syllabus and is inspired by interest and wonder. Any teacher, standing out the front regurgitating facts or using a premade worksheet, could not possibly have taught the content that these students sourced with each other. A boundless variety of concepts such as the hierarchy and dependent structures of food chains, case studies on endangered species, consequences of global warming and the implications of urbanisation on the natural world were all discussed and questioned by different groups of young learners. Quirky questions encourage research, debate and critical thinking. Our staff has learnt that answering inquiry questions is not primarily about getting the 'right' answers. It is also about learning the methods and skills which are developed as the students endeavour to discover answers.
Learning within and beyond the classroom's walls
We consistently hear that educationalists need to prepare students for the realities of the future workplace and the rapidly changing technological landscape. Mitra (2013) advocates that self-organised learning will shape the future of education. SOLE invites students to ask Big Questions that lead them on intellectual journeys to pursue answers, rather than only memorising an accumulation of facts. Learning experiences see students move through the process of inquiry as they wonder, plan, analyse, create and reflect in order to make meaning whilst integrating skills and content from multiple key learning areas.
Our students are continuing to learn how to 'dig deeper' with their research, instead of being 'surface skimmers' who teach others rudimentary facts. When researching, students are learning to question the authority of the text, credibility and purpose of the author. This higher order thinking enables groups to question others when presenting their findings. Learners internalise feedback from their teachers and also from their peers, so they can self-evaluate their conclusions and performance. As a result, our staff has embedded reflective teaching tools such as exit slips, two stars and a wish, traffic lights and reflection journals into everyday curriculum. This enables students to reflect on their own learning, their team's learning and their classes learning, in a useful, honest manner. Consequently, 93% of students from our trial class specified that they valued and used feedback from others to improve upon their own learning. The pedagogy has enabled students of varying abilities to work collaboratively, as students question, discuss what they want to know and share their subsequent findings with each other.
'I love working with my classmates in SOLE. Working together to find research really helps me to learn new things. I think we should definitely continue with SOLE in our school.' (Stage 3 Student Response: Post Survey Reflecting on SOLE)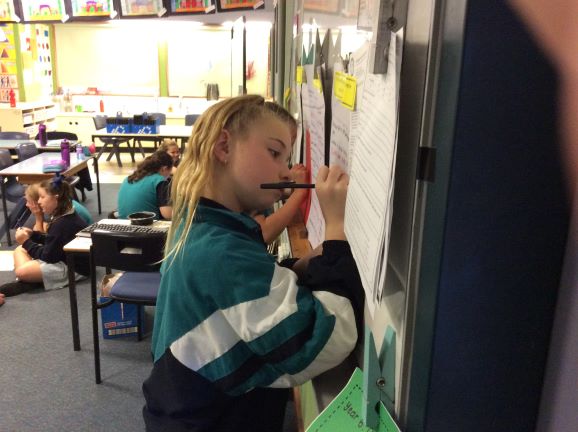 Students summarising their discoveries independently
Scott (2017) argues that we should be giving students the confidence and skills to question conventional wisdom and solve fluid and connected problems, which comes back to teaching people how to think for themselves. SOLE ensures that our units of work are fuelled by Big Questions, which are developed by students' self-discovery, sharing and spontaneity. These parameters create a non-threatening environment in which children feel free to explore and learn with each other.
Our students are motivated by choice and interests when collaboratively choosing their angle of inquiry at the start of the research period. The initial minutes of the group's research time is spent discussing what students believe the question is asking them to inquire and identify what they already know. This helps them to answer the question. In addition, preliminary discussions concentrate on outlining any known case studies that link to the question while students also consider the vocabulary that will assist learners when searching online.
A classroom will usually have 6 or more groups working on their own path of investigation, broadening the variety of concepts that are reported back in one single session. As students rove from group to group and read information recorded on the class' learning walls, they are frequently discussing each other's focus to ensure that groups are working towards the same goal. Students benefit from not revisiting concepts which they already know and understand. Instead, learners delve into new and unknown concepts that their peers similarly want to know more about. As a result, the time spent on task is optimal and behaviour concerns are decreased. Learning with a group has also seen noticeable improvements in peer tutoring and friendship circles. Furthermore, students technological fluency has improved significantly, as our digital citizens are required to navigate pathways, use search engines and publish work using innovative applications, without teacher support.
As teachers, we need to facilitate a learning environment that enables our students to understand and utilise information and not become overwhelmed by the sheer volume of data that is available. Working in small groups supports the dissection of appropriate information for students of differing abilities. Many teachers have reported that students learn to pair up with those who both challenge and support their level of ability; scaffolding for all students is present through peer support and role sharing.

The driving force behind SOLE
Educational significance
Our students' futures demand educators who are great witnesses, supporters and structure providers, not necessarily answer suppliers. This challenges what many of us consider our role in teaching to be. Feedback from our Innovate Pockets of Practice (IPOP) SOLE mentoring partnerships developed with the 2567 Community of Schools (K-12 partnership) has been consistent. High school and primary school teachers similarly indicated that at first it was difficult to step away and let children learn with limited teacher guidance. In the initial planning stage with first time teachers, some of the questions raised were; 'What if they are answering the question wrong?', 'What do I do when some children aren't accountable or are off task?' and 'What about that one child who never has people to work with?'. Regardless of which grade teachers were teaching, all reservations stemmed from comparable uncertainties. Similarly, these questions entered our own minds in our initial training experience. After watching demonstration classes in action and developing inquiry questions with a mentor, mentored teachers felt that they were ready to embrace SOLE. At the completion of the IPOP program our newly trained teachers were commonly surprised to see their students taking ownership of their learning and had developed an expanded understanding of how much students can acquire when learning with and from each other.
Since implementing this inquiry-learning model, the students in our own school and partnering schools have developed a real purpose for learning research skills. Students are developing into text analysts who question and discuss information rather than blindly accepting it. As a result, their questioning skills have improved exponentially. Students who previously may have been passive listeners have become critical thinkers who draw on their own experiences, make connections with the world in which they live and expand their knowledge.
'SOLE has provided me with an innovative method of teaching. The students are excited about taking control over the direction of their learning and working cohesively as a team, with specific job roles. I find that SOLE can easily compliment my program and improve student engagement, where student's learning is extended beyond teacher direction.' (IPOP Teacher Response: Post Survey Reflecting on SOLE)
Publishing inquiry research
When launching into SOLE many teachers found common gaps in student's researching and summarising skills, which presented the opportunity to support students with explicit, point of need lessons. Team teaching with our school's teacher librarian ensured that students were provided with skill-based lessons to improve their independent research skills. Initially, it became very apparent that our students required assistance to effectively navigate and utilise search engines. Supplementary lessons were explicitly taught to improve students' ability to independently find relevant statistics and creditable information sources. Additional rotational activities were also developed to support students in accessing age appropriate texts and multimedia. These sessions provided scaffolding to improve our student's skills, which they not only needed to engage in quality SOLE sessions, but will also be required throughout their secondary and tertiary education. As a result, SOLE is currently embedded in Harrington Park Public School's library program as well as in our Stage 2 and 3 classrooms.
Introducing SOLE into your classroom
SOLE is driven by protocols that govern the self-regulated learning. As students become self-sufficient in the inquiry process the teacher is able to step away and become part of the action to learn 'with' the students, instead of the traditional approach of teaching 'at' the students. Student surveys from our focus trial class indicated that 89% of our students would prefer to engage in a SOLE session instead of teacher directed learning.
The protocols of SOLE
To make the most out of the experience, educators need to adopt the SOLE mindset. My class regularly uses the tag line of 'It's SOLE, not TOLE - teacher organised learning' or 'No man gets left behind'. If you are considering SOLE for your school please get started by using our Professional Learning Resource. It has been designed to assist teachers in starting their own SOLE journeys with accompanying example units of work, Big Questions, professional readings and teacher resources. Chances are, you'll want to jump in and assist students with their research, but resist! A common approach that works quite well is being honest and informing students that you don't know all of the answers either. Reminding students that you're 'invisible' is a simple method to enable you to monitor groups without force-feeding learners during the research and presenting periods. Like every new structure, children of any grade need time to develop their patterns of behaviour and confidence with the pedagogy. Persistence and continuity is key to developing self-sufficient learners.
As an adult, I ask myself 'What do I do when I don't know the answer to a question?' I ask someone with expertise, I 'Google it' or I watch a YouTube clip. Similarly, SOLE mirrors this process as we don't have all of the answers, but we can make sense of them by seeking support from experts and online resources. The journey thus far has demonstrated that effective inquiry is more than just asking questions, it is a complex process where students formulate questions, investigate to find answers, build new understandings and communicate their learning to others. Instead of putting a ceiling on learning by consistently instructing students with lesson starters such as, 'Today we are learning about', let's change the dialogue of the classroom by igniting thinking and experiences with Big Questions. This is future focused learning. This is engagement. This is SOLE!
How to cite this article – Hawkins, K (2018). Learning collaboratively through self-organised learning environments. Scan, 37(5).