The Rural Access Gap proof of concept (POC) covered 29 schools in the Dubbo, Narrabri, and Northern Border Region as part of Release 1 of the program.
The POC was extended to 110 schools by the end of June 2021. The program will now be rolled out to the remaining schools over the subsequent two years.
Delivering on the digital roadmap
29 NSW public schools targetted.
661 teacher portable devices delivered.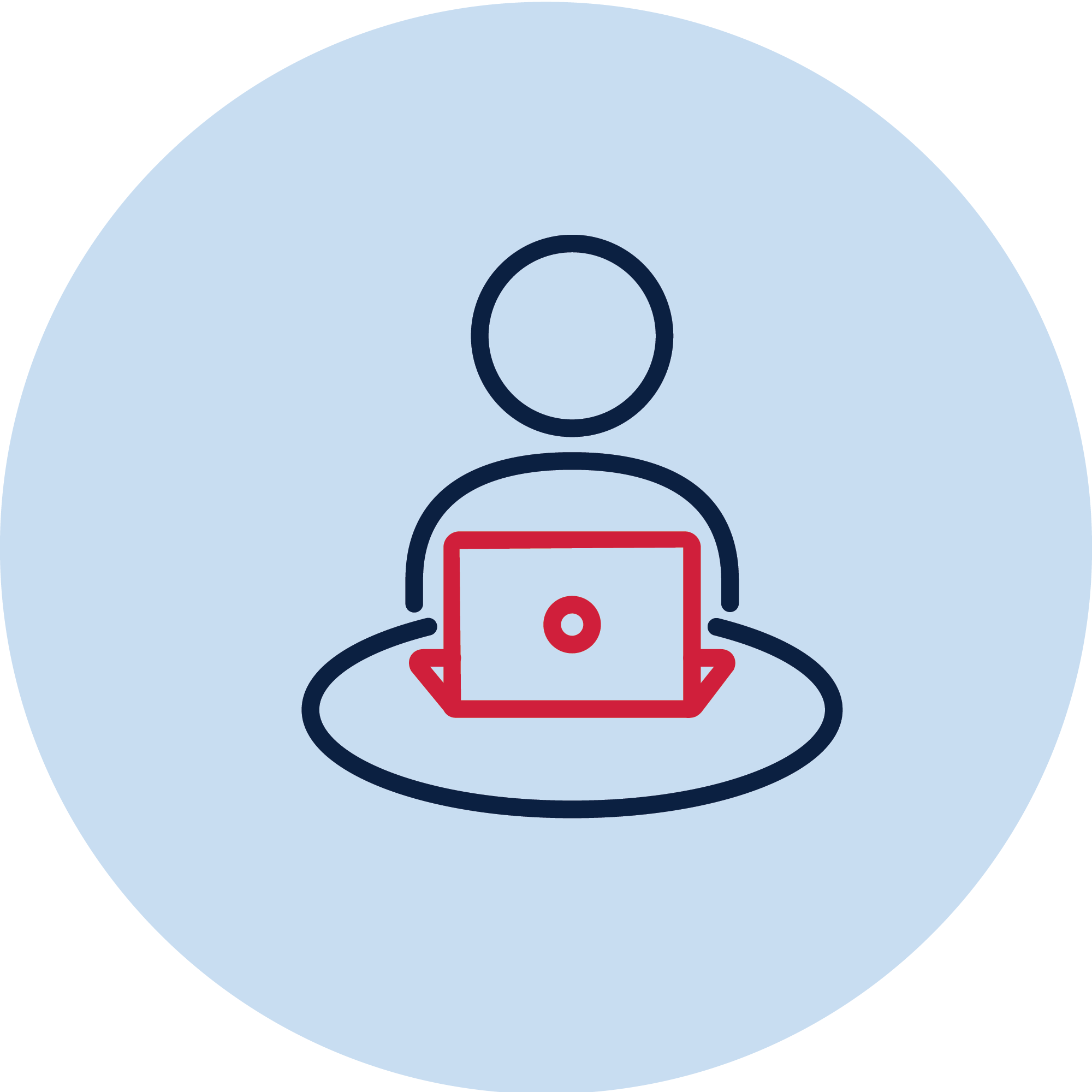 687 student portable devices delivered.
546 interactive displays delivered.
Dubbo Public School: A case study
One of the 29 schools who participated in the POC was Dubbo Public School. We spoke to the school's staff about how the program has impacted them and their 500-plus students.
Students get faster internet


Prior to upgrade Dubbo Public School had a 50Mbps WAN and 100Mbps internet service, this was increased as part of Telstra upgrade to 100Mbps WAN and 3,000Mbps internet service (1967% increase).
On average, each student now has more than 5Mbps of network connectivity (a key program target) which allows them access to online learning and other digital opportunities for a more engaging school experience.
Students are enjoying superior internet speeds for more engaged learning.
"With our new connectivity to Wi-Fi and supply of devices, it has really streamlined our teaching processes and given us access to so many more resources. Already I can see the excitement in the students and teachers in our classrooms," Principal at Dubbo Public School Debbie Pritchard said.
Greater student access to devices

Students will benefit from improved access to devices, delivered in tandem with the annual T4L Computer Equipment Rollout.
The program aims to deliver a minimum device-to-student ratio of 1:4 across more than 220,000 students (up from 1:6).
Under the Rural Access Gap program, Dubbo Public School received 43 student devices and 28 teacher devices.
Improved access to devices has meant it is easier for students (pictured left) to collaborate in class lessons.
"I know they do a lot of teaching from the front of the room where the children come up and interact with the boards. If we've got access to 30 laptops, it means all children in a class can collaborate during the class lesson," Principal at Dubbo Public School Debbie Pritchard said.
More devices for teachers

More than 12,000 teachers across approximately 1,000 NSW public schools, will have access to a dedicated portable device as part of the program.
The new devices will enable teachers to streamline lesson planning and will open up opportunities for greater collaboration, and personalised flexible learning.
"Having a portable device means I can incorporate technology into my lessons whenever, wherever I like," teacher Deborah Duffy said.
Teacher Stacey Barlow (left) with Deborah Duffy (middle) and Deputy Principal Brent Eather.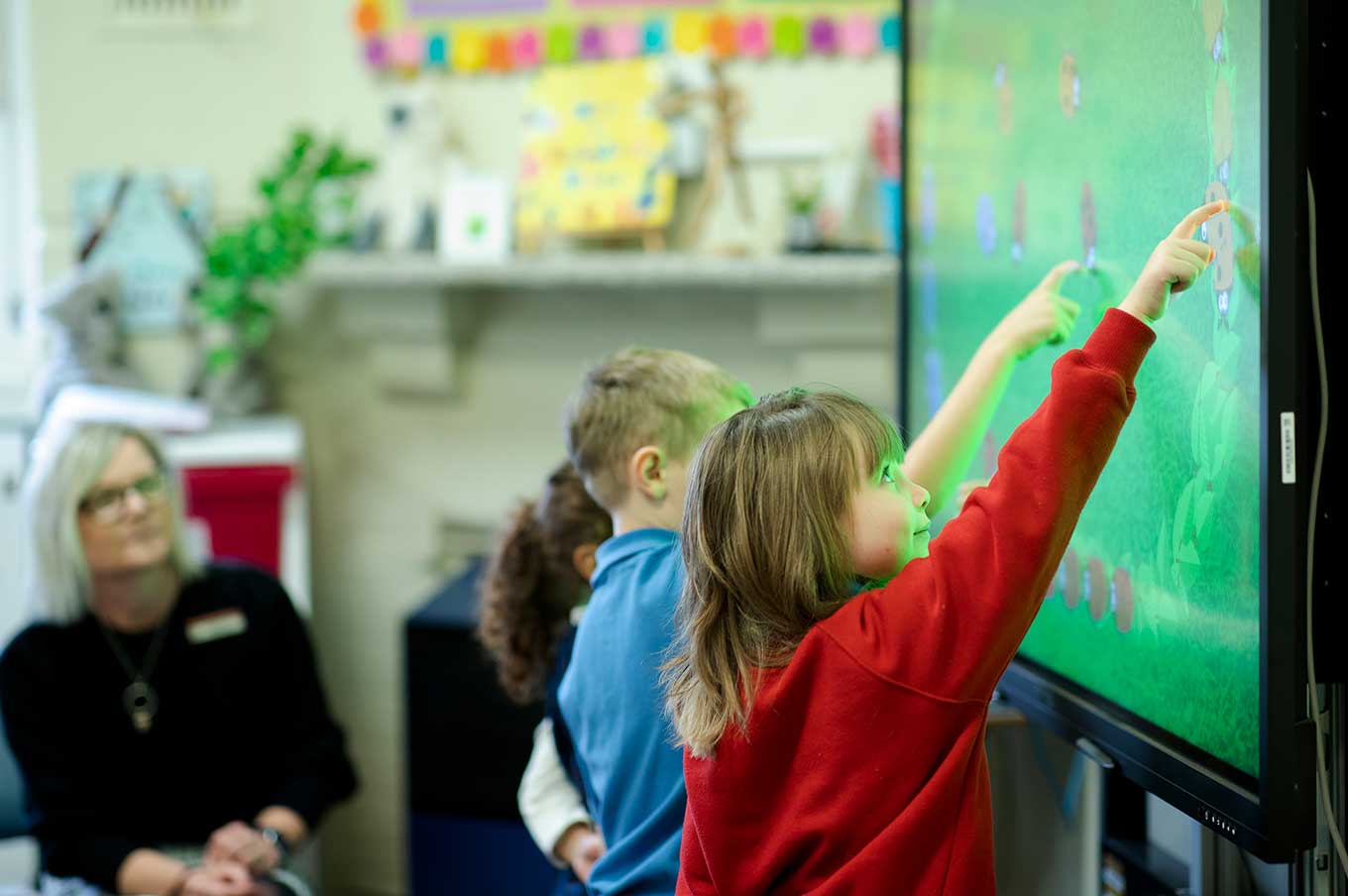 Dubbo Public School students are "wanting to learn more" with the use of MLDs.
Improved learning spaces for schools
Dubbo Public School received 27 new Main Learning Displays to enhance their learning spaces.
"It's just very interactive and flows nicely. It fits in well with how I'm planning teaching," Dubbo Public School teacher Stacey Barlow said.
"We use the Main Learning Display a lot in maths groups. I ask students to come up and draw things on the board and to show me how they've worked out their answers. It's a really good way to incorporate student voice into a lesson."
Mentoring by a Digital Classroom Officer
DCOs play an important role in building the capacity of staff in each school in the Rural Access Gap program, sharing useful resources and providing one-on-one mentoring to colleagues.
They will also form a sustainable community of practice by capturing and sharing examples of strong classroom practice and pedagogies with other DCOs.
Dubbo Public School has received funding to appoint teacher-librarian Robyn Veugen, as the Digital Classroom Officer, one day a week throughout 2021.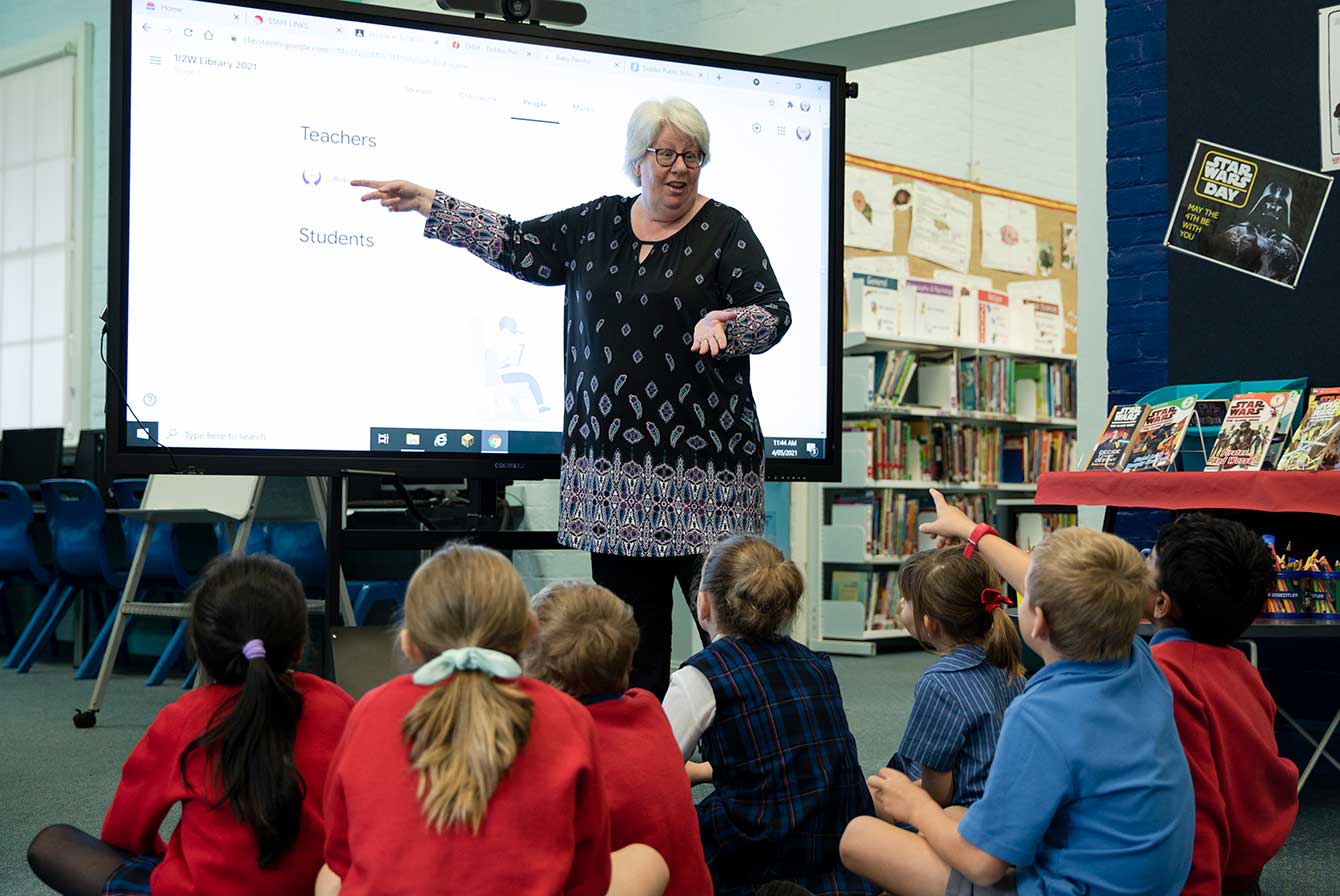 Dubbo Public School students with teacher-librarian and DCO Robyn Veugen.
"The DCO program is a critical component in order to build the capacity of staff in their contextual approach to implementing technology with a focus on teaching and learning integration, and creating a sustainable approach to digital learning in the classroom," Digital Learning Advisor Aimee Phillips said.
"The rolling out of all the new devices, for students and for teachers, and the Main Learning Displays and having a DCO on the ground – it has just all come together now, and has changed the way we teach here," Principal Debbie Pritchard said.
Guidance by the Digital Support Team


The Digital Support Team (DST) provides needs-based support to schools at all stages of digital maturity, and tailored assistance to make the most of the digital opportunities available to them.
The DST provides training, guidance and direct assistance to teachers to help them select and integrate the digital tools and resources that best suit their teaching strategies.
"Right from the start, the support has been absolutely amazing. From the rollout of all the technology right up to the appointment of the DCO," Debbie Pritchard, Principal at Dubbo Public School, said.
"They have just been there the whole time helping us through this process."