Rural Access Gap program update
The Rural Access Gap program is providing 1,004 rural and regional schools with a digital uplift, support and training to close the equity gap with their metro counterparts. It is part of a $365.8 million commitment from the NSW Government's Digital Restart Fund which will benefit more than 12,000 teachers, 220,000 students and 6,500 support staff across the state.
Giving equal opportunity to all students


Program Director Wayne Poole said the Rural Access Gap program is more than just giving schools a digital uplift, but about opening up possibilities for students.
"It's about providing equal opportunity to rural and remote students … and putting them on the same digital footpath as other students, and giving them the same opportunities," he said.
What the program is delivering
Over the past 12 months, the Rural Access Gap program has delivered on four key areas:

1. Leading digital improvements
A key component of the program's goal of uplifting rural schools is the Digital Maturity Planner (DMP). The tool is designed to help identify gaps, and create and manage a plan that improves their digital capabilities. So far, 452 of the 1,004 schools have completed the DMP.
Supporting the journey is the Digital Support Team (DST) who guide schools to uplift their digital capacity and skillset. The DST has completed 477 school engagements and teachers have taken part in more than 3,800 hours of elective professional development.
The program also funds casual relief to support a Digital Classroom Officer (DCO). To date, 378 DCOs have been identified across schools in the program.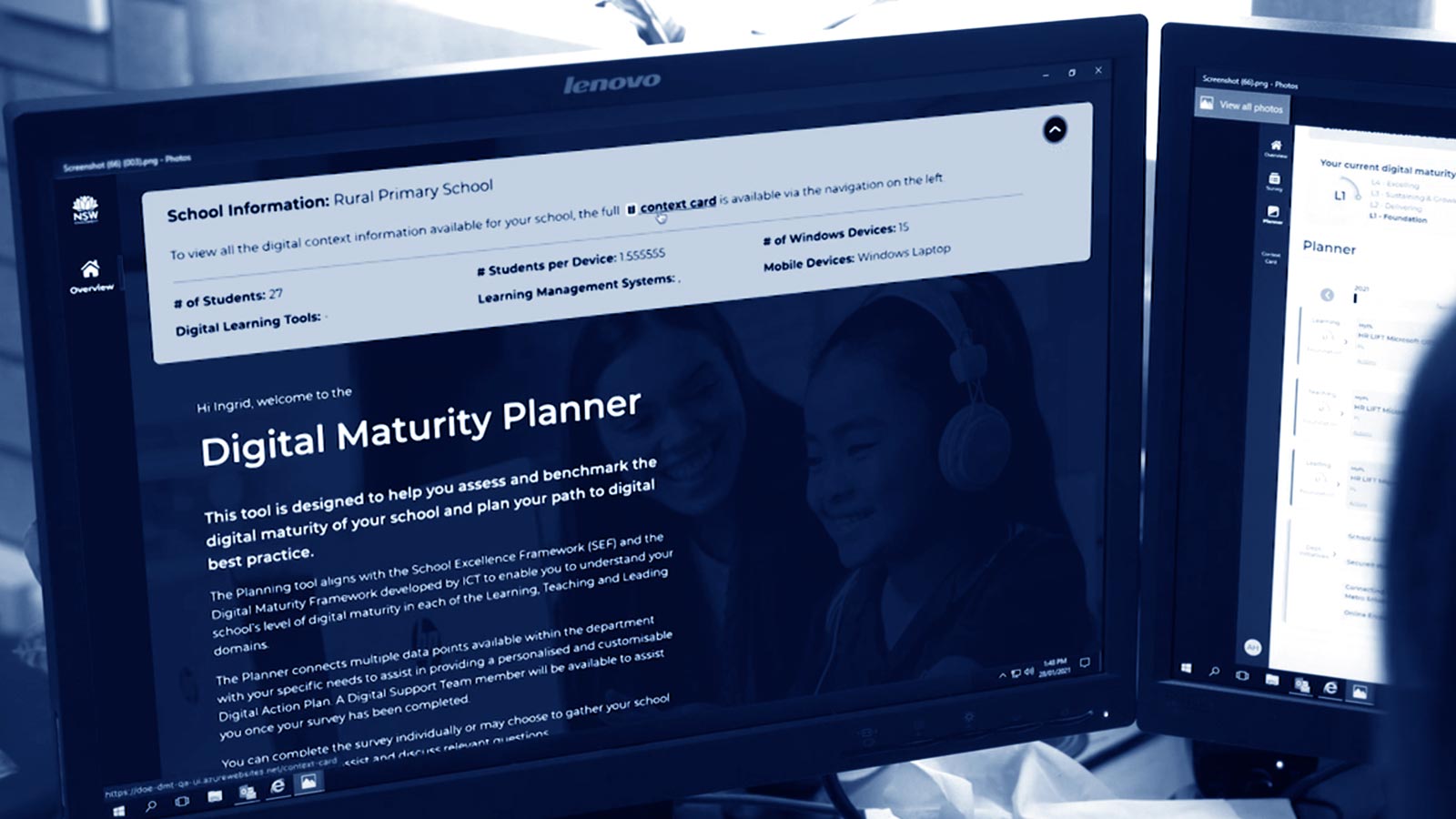 2. Enabling digital classrooms
Improved connectivity and learning space upgrades will enable our educators to collaborate with colleagues across the state. So far, 296 schools and 85,626 students now have access to the target connectivity and speed of 5 Mbps per student.

More than 12,000 teachers across about 1,000 NSW public schools will have access to a dedicated teacher device. A total of 11,045 have been delivered so far. Students will also benefit from improved access with 93% (18,590) of devices rolled out.

Learning spaces will have access to an updated interactive display to help streamline lesson planning and preparation (58 schools to date benefiting 1,433 teachers and 15,473 students).
3. Accessing digital tools
As part of improving access to digital tools and resources, stem.T4L is delivering targeted support through direct provision of new STEM learning equipment and professional learning for better collaboration.

The Digital Learning Environment Enhancements (DLEE) project is working to ensure learning management platforms are integrated with other learning tools and applications.
Through the Digital Learning Resources Hub (DLRH), teachers can now discover, share and publish curriculum-aligned resources.

4. Making daily tasks easier
Quick Reference Guides (QRGs) are being developed to help schools digitise, customise, and send forms. QRGs have been created for more than 40 processes across two third-party platforms, and more than a dozen processes in SkoolBag.

Automated Attendance Reporting is eliminating the need for schools to manually import absence data into ebs across 713 eligible Rural Access Gap schools.

The NSW Education Parent App is streamlining communication between schools and parents, and Parent Online Payments (POP) enhancements are delivering a simple, mobile-friendly experience and multilingual support.
The latest release of $70.5 million from the Digital Restart Fund will further deliver:
Network connectivity for 390 schools.

Installation of interactive learning displays for the remaining schools.
Provision of new STEM learning equipment, professional learning and resources for teachers and students.


Complete rollout of a parent online payment upgrade to all schools. A further 249 schools will be given access to the DMP in late Term 4.